Dr. Volker Olles' Recent Monograph Is the Sole Winner of the 2013 research prize of the German Oriental Society
Oct 09, 2013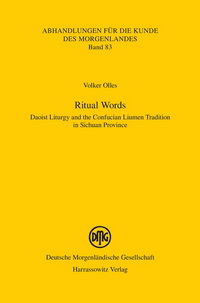 Dr. Volker Olles, one of the 2009 recipients of a CCK Foundation Postdoctoral Fellowship, recently published a book entitled Ritual Words: Daoist Liturgy and the Confucian Liumen Tradition in Sichuan Province (Wiesbaden: Harrassowitz, 2013). On September 25, 2013, Dr. Olles' book was awarded the prestigious research prize of the German Oriental Society (Deutsche Morgenlandische Gesellschaft), which is granted every three years to one or two authors of outstanding works in the field of oriental studies. Dr. Olles' monograph is the sole winner of the 2013 prize.
Ritual Words is a groundbreaking study combining the meticulous analysis of ritual texts with fieldwork and oral history to explore various aspects of Daoist liturgy, Confucian culture, and manifestations of civil society in Southwest China from the late Qing dynasty to the present day. A central figure in Olles' book is the Qing scholar Liu Yuan 劉沅 (1768–1856). Liu, a native of Sichuan 四川, developed a unique system of thought that merged Confucian learning with ideas and practices from Daoism and Buddhism. He was eventually venerated as the founding patriarch of an influential movement commonly referred to as Liumen 劉門 (Liu School), which combined the characteristics of a scholarly circle and a religious society. Assisted by his close disciples, Liu edited a Daoist ritual canon titled Fayan huizuan 法言會纂 (Compendium of Ritual Words). Liu's teachings and the Fayan huizuan canon constitute the foundation of an independent branch of Daoism, which is still extant and known under the name of Fayan tan 法言壇 (Altar of Ritual Words).
The Postdoctoral Fellowship granted by the CCK Foundation enabled Dr. Olles to continue his research work during a crucial phase of the project, which resulted in the publication of this award-winning book.