Dr. Jui-shan Chang's Recent Monograph Is the Sole Winner of The USA Best Books 2011 Awards for the Category of "Health: Sex and Sexuality"
Nov 23, 2011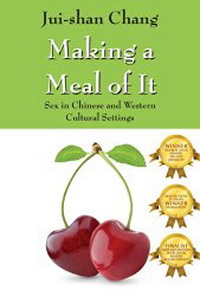 The Foundation is proud to announce that Dr Jui-shan Chang, one of its 1999 Research Grant recipients, has recently published a book entitled, Making a Meal of It -- Sex in Chinese and Western Cultural Settings (Outskirts Press, 2011). Dr Chang's book is the sole winner of The USA Best Books 2011 Awards for the category of "Health: Sex and Sexuality". Chapters 3 and 8 of this book were based on a project funded by the Foundation's research grant. The USA Best Books Awards are sponsored by USABookNews.com, a leading online magazine and review website for mainstream and independent publishing houses. Over 500 winners and finalists were announced in over 140 categories covering print, e-books, and audio books published in 2010 and 2011.
Based on twenty years of comparative research on the two cultures through surveys, focus groups, in-depth interviews and the study of cultural artifacts, Dr Chang's ground-breaking study reveals different embedded meanings of sex for people in Chinese and Western cultural settings: the Chinese primarily understand sex as a "meal of sustenance" while Westerners see sex as a "game" for individual recognition, validation and self-completion. For Chinese, sex is not who you are but what you do—in relation to familial duties. In the West, sex is not what you do but rather who you are. Emerging out of those differences Dr Chang has developed a unique and profound perspective on sex that spans the two cultures.
Dr. Chang holds Bachelor's and Master's degrees in sociology from National Taiwan University and a Doctorate in sociology from the University of Michigan. She has also undertaken specialized training in psychotherapy and couples therapy in Melbourne. She has worked as an academic for the Institute for Social Research at the University of Michigan, the East-West Centre in Hawaii, the University of Tasmania, the University of Iowa, and the University of Melbourne. A contributor to top journals and presses around the world and an award winning author and educator, she is currently also a psychotherapist in private practice and a freelance senior research consultant in Melbourne.